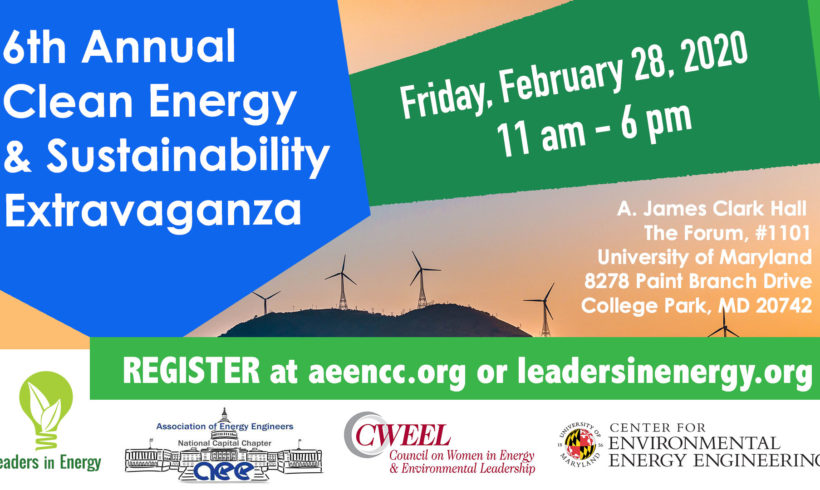 6th Annual Clean Energy and Sustainability Extravaganza
–Innovative Trends on University Campuses in Clean Energy and Sustainability 
 University of Maryland-College Park, Friday, February 28th, 11 am – 6 pm.
Conducted by the Association of Energy Engineers-National Capital Chapter (AEE NCC) and Leaders in Energy (LE), our theme is "Innovative Trends on Campuses in Clean Energy and Sustainability" including energy planning for carbon neutrality and smart city applications, renewable energy and energy efficiency, local food-to cafeteria and composting/reducing food waste, water efficiency, and sustainable transportation.  This event will showcase new ideas, technologies, policies, products, and services.
NOTE: Volunteer and receive a complimentary ticket to attend our Extravaganza all-day. Examples include: reporting on a session, serving as a Welcoming Ambassador at our registration desk, taking photos, getting the word out on social media, clean-up, floating to lend a hand where needed, etc. Contact us on how you would like to help at: info@leadersinenergy.org
Extravaganza Agenda 
(See speaker bios and photos here)
11 am – 1:45 pm: Luncheon Panel, Council on Women in Energy & Environmental Leadership (CWEEL):  Perspectives on Advancing Gender Equity in the Energy Industry.
2:00 – 6:00 pm Showcase Panels
Exhibitors showcase – Meet with Exhibitors from clean energy and sustainability companies and organizations
 Registration includes all events including the CWEEL Luncheon and Showcase refreshments.
Job seekers, students, and everyone concerned about our future are welcome. Participants can connect with members of AEE and Leaders in Energy, university departments, cleantech businesses, and other Extravaganza attendees. Speakers will be announced as they are confirmed.
Visit their website to register today to attend!